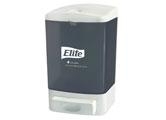 OEM Products
Private Logo of Elite.
Research and Development
We are widely recognized for our ability to provide customers with complete support- from initial product design to finished product.
Dedicated cross-functional teams representing engineering,manufactional,marketing,finance and materials management work with customers to develop custom solutions,Yuwei's professional research and development team listens to the customer and manages a project through every phase of development with the focus on manufacturability,quality and lowering the final cost.
During on-going consultation with the client, we use the latest CAD technology to design dispensing solutions. we build working prototypes to measure the long term reliability of a design.
Extensive product testing assues that every product. we manufacture and market lives up the customer's expectations. Afterthe new product passes our high standards. we use the most modern equipment and techniques to maintain highest product integrity at the lowest practical manufacturing cost.